Visit our Antique Clock Shop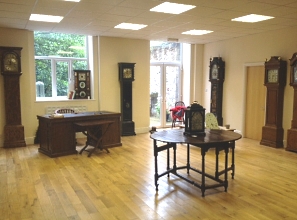 A superb selection of genuine 18th, 19th and 20th century Long Case clocks, Mantel Clocks, Wall Clocks and other interesting and unusual antique clocks. Up to 60 clocks on display at any one time.
Open 7 days by prior appointment only
Whaley Bridge,
Derbyshire,
England
UK.
We are open by appointment only, 7 days a week, but we are only just 2 mins away, so it is worth giving us a ring. Tel : 01663 733209, mobile: 07767 617507